What an experience I will never forget! From waves lapping the beach gently, to the busy but beautiful city of Dubrovnik here will be a holiday to remember...
THE HOTEL:
A view from the hotel looking out to sea.
The Radisson Blu Spa and Resort hotel was lovely with everything surrounding you having brilliant views. From the moment you wake up they will be serving you with a mouth-watering buffet for breakfast all the way through to a refreshing cocktail to drink after your dinner. You might also want to visit the Sports Centre where there is a wide variety of different sports to be played. Maybe you might want to walk along the beach. Although rocky, the water is clear blue and the huge boulders behind are great for climbing.
DUBROVNIK: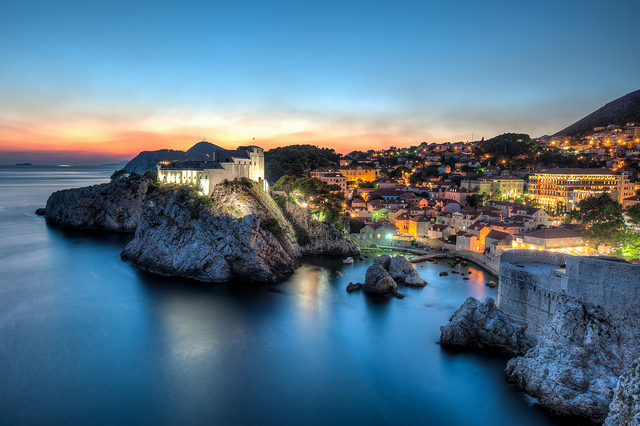 The beautiful city of Dubrovnik at sunset.
I won't be able to tell you how beautiful Dubrovnik was but to get the idea in your head it was really, really gorgeous. Walking through the city will be a delight to the whole family although if you're unlucky and choose the wrong path you'll be climbing up thousands of steps. The Old City Walls protect this charming land and you can walk around them and almost faint in all the lovely views. BE WARNED! You do have to go up a lot of steps and on a sunny day it is super hard work.
The Bell Tower is seen by the Marina and chimes very loudly. There's also Stradun, a wide street of cafes/restaurants and all types of shops galore. Overall, Dubrovnik is just charming and I had a fantastic holiday.
Check out my sister's post http://www.whatlexieloves.blogspot.co.uk/2014/04/the-stunning-and-sunning-croatia.html